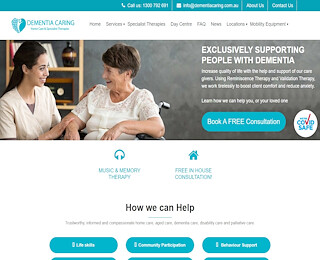 Our staff at Dementia Care provides clients with affordable dementia care in Sydney. If your loved one requires at-home assistance at any level, give us a call to discuss options in assisted living. We offer a wide range of services that can ensure the person you love is being cared for compassionately.
Our Services
When you arrange for quality at-home care, your family member may not need to move into an assisted living facility. We can assess your loved one's needs and help create a comprehensive plan that tailors services that meet their needs. Feel free to contact one of our care coordinators for a consultation. We're able to offer at-home dementia care in Sydney at the following levels:
Early stage dementia care that involves keeping your loved one engaged in mental exercises and games. We provide education packs to help understand dementia, general support for home care, personal home care, and assistance with cleaning and other domestic tasks.
Middle stage dementia care, which including organizing the patient's home to make it more practical, personal care that includes bathing, dressing, cooking, and feeding, respite services, assistance with complex needs, and housekeeping.
Late stage dementia care, which includes 24/7 dementia at-home care and respite, professional personal care, specialized dementia caregivers who maintain independence longer, and ongoing home care and advice.
Why Choose Dementia Caring?
Simple- we provide a high level of support for our clients. We can offer relief from the everyday strain of caring for your loved one; in fact, studies have shown that caregivers who receive professional assistance and regular respite are better able to continue providing care into the future. We take a great deal of pride in being able to offer personal home care tailored to your individual needs. Feel free to call us for advice or assistance in making some of the hard decisions you face on a day to day basis.
Additional Therapies
Along with our personal care services, we feel it's important to offer our clients specialist therapies that help their loved one feel valued and connected with the family. We've found that patients are happier and more connected to their present-day environment when engaging in the following therapies we offer:
Music and Memory
Reminiscence Therapy
Life Storytelling Books
Sensory Therapy
Validation Therapy
You can learn more about the benefits of each by clicking the 'Specialist Therapies' link on our homepage or by inquiring during your consultation. We'd love the opportunity to explore these options with you for the benefit of your loved one.
Currently Enrolling
We're currently accepting new enrollments for dementia care in Sydney at Dementia Caring. Please stop by our day centre located next to Westfield at Bondi Junction or call our office with your questions. We offer affordable care and social engagement for your loved one from one hour to all-day care. You'll love the controlled and safe environment- and we can even provide transportation to and from the club.
Dementia Care Sydney
Dementia Caring
1300760110
9-13 Bronte Rd suite 301 level 3, Bondi Junction, NSW 2022
View Larger Map