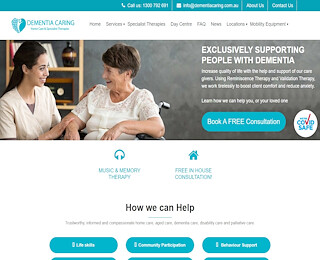 If you or someone you care about has a disability, you can receive exceptional disability care in Sydney from Dementia Caring. Our caregivers do more than just provide outstanding care for patients with dementia- we offer a full range of services designed to help patients stay at home instead of an assisted living facility. If you have a permanent disability or are recovering from an illness, accident, or surgery, we can provide a high level of disability care for exceptional peace of mind.
Quality Personal Care At Home
We're proud to offer tailored personal care designed to meet your needs entirely. We offer a free at home consultation to give you the opportunity to discuss your objectives with our staff. Based on what your requirements, we can customize a care plan that ensures a better quality of life. If you need nursing care, we can help with catheters, colostomy, wound management, and more. Our highly experienced staff can provide chronic disease management as well.
Numerous Options for Meal Prep
To whatever level you'd like us to be involved, we'll be there for you, whether that means doing the shopping, meal planning, cooking, and cleanup, or just helping out when you need some assistance. Our meals are tastefully prepared, delicious, nutritionally balanced, and made using the freshest ingredients available. We know that eating healthy is vital to your recovery and that nutrition doesn't have to come by way of sacrificing taste.
Full Service House Keeping
The needs of our patients vary significantly from one to the next, which is why we offer disability care in Sydney that is based solely on your needs. If you're recovering from an illness or dealing with a long-term disability, it can be a huge challenge to stay on top of chores and maintain your home. For this reason, we offer a wide range of housekeeping and maintenance services, including all of the following:
Garden and lawn maintenance
Carpet and floor cleaning and sanitizing
General cleaning
Washing and ironing
Bedmaking
Kitchen cleaning
Shopping, cooking, meal planning, and preparation
Food and pantry monitoring
Customized Respite Care
If you're caring for someone with a disability, you may need to take some time to yourself every now and again. Medical experts advise caregivers to take care of themselves in order to provide better care to their loved one. As well, we caution caregivers to refrain from feeling guilty about requesting time to recharge or rejuvenate from time to time. It's actually essential to your own health and peace of mind.
We offer affordable respite care as part of our disability care in Sydney. Just let us know how much time you need and what type of duties you'd like us to perform while you're away. We'll be happy to sit down with you and discuss available options so you can enjoy some time to yourself without worrying about the level of care your family member is receiving. Call Dementia Caring for more information on our services.
Disability Care Sydney