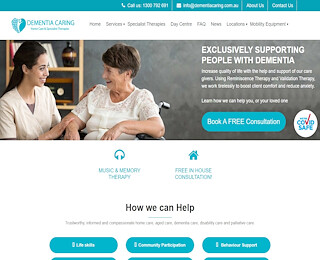 When it comes to providing quality in home care in Sydney, no one cares like our specialists at Dementia Caring. We strive to improve quality of life through help and support, using a range of methods and therapies to increase the comfort of the patient and reduce anxiety that comes from trying to care for a loved one alone. Prolong independence by calling our staff to discuss your family member's needs.
Carer Support Services
We believe in providing our clients with the highest level of in home care in Sydney. Dementia care is about more than just offering assisted living and nursing care; it's also about coming alongside caregivers and helping them organize their homes in a way that makes it easier to meet the needs of their loved one. If you need some time to yourself, assistance with meal preparation, affordable nursing care, housekeeping, or any other service, just give us a call.
Nutritionally Balanced Meals
Eating right can be one of the biggest challenges of living with dementia. If you're living alone or caring for a family member, you may find the task of meal preparation to be overwhelming. Dementia Caring offers a two-fold service to help:
Tastefully prepared, delicious, wholesome meals prepared in your home
In-home training and support for meal preparation
Feel free to schedule a consultation with our staff in your home to learn more about what we can do to make the process of providing healthy meals easier for you. We can customize our service to you by helping with the shopping, assisting you in getting organized, or taking care of all phases of meal preparation.
House Keeping & Home Maintenance
You may find that the level of care you provide to your loved one keeps you from being able to tend to the household chores to the degree you would want to. We can help with that as well, by providing extensive house keeping service that includes any or all of the following:
Bed making
Washing and ironing
General cleaning
Kitchen cleaning
Vacuuming and mopping
Food and pantry maintenance
Refrigerator and freezer cleaning
Waste bin emptying
Garden maintenance
And other duties
Customizing household duties to meet your needs is one way we can assist you in providing quality care to someone you love. We understand your need to spend quality, one-on-one time with your family member- our housekeeping services can make that possible.
A Day of Respite- Or a Week
Sometimes providing in home care in Sydney means taking a day to yourself to unwind, recharge, and regain perspective, so you can come back and continue with your caregiving duties. Respite care is one of our most-requested services- and one we are proud to provide when you need to get away for a breath of fresh air or some time to yourself.
Whatever your needs, you can count on Dementia Caring to be there when you need us. You can learn more about the services we offer in our 'Services' and 'Specialist Therapies' sections or by calling our staff with your questions.
In Home Care Sydney