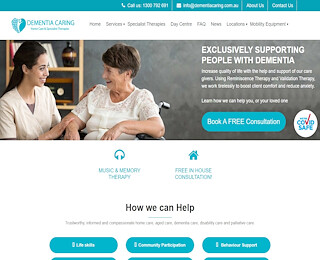 You and your loved one can experience all of the benefits of respite care in Sydney when you contact our caring staff at Dementia Caring. We proudly offer respite care to our clients who need to take a day to recharge or a period for personal needs. You should feel no guilt whatsoever in calling for respite care- in fact, your health and the health of your family member depends on you getting time to yourself when you need it.
Respite Care is a Win-Win For You and Your Loved One
Our staff at Dementia Caring understands the rewards that come from being able to take care of someone you care so deeply about, however, there is a particular challenge that comes from being a sole caregiver. Mental, physical, and emotional stress can take a toll in a short amount of time. We provide quality respite care in Sydney for our clients to give you a break from the daily routine, to make time for family vacations or business trips, or just time to recharge, so you can come back feeling stronger and more capable.
Consider the numerous benefits of calling on our services:
Renewal can improve your overall mood
Energy is necessary to continue providing quality care
Space is something everyone needs
Perspective can allow you to return feeling energized
Identity will maintain your purpose
Time away will improve time with your loved one
Engagement keeps you connected with friends and family
Tailored Respite Care in Sydney
We take a great deal of pride in being able to offer a customized respite service that aims to meet your needs. Feel free to call us to schedule an at-home consultation with our caring professionals. Use this time, and we'll create a care plan that considers your requirements. We'll be there for you when you need us most- providing the same level of care you would give your loved one.
Benefits for Your Loved One
You may have thought you would be the only beneficiary; however, studies clearly show that taking some time to refuel results in better care for the patient as well. You may be experiencing what experts call 'caregiver stress' if you experience any of the following symptoms:
Frequent exhaustion
Feeling unappreciated
Periods of frustration or anger
Loss of motivation for caregiving
Sleeplessness
Making mistakes while caregiving
Increased smoking or drinking
Feeling ill
A Little Goes a Long Way
Routine respite care can relieve the stress you feel from caregiving. Don't fall into the trap of thinking that you can do it all alone or that needing some help makes you less of a loving and caring person. The fact is, there are numerous ways that you can relieve the stress you're feeling. Join a support group, find time to exercise or eat well, vent to a friend, and contact our staff for quality respite care in Sydney when you need some help. We're just a phone call away when you need us.
Respite Care Sydney